Central washing systems are the most effective method used to keep the highest level of cleanliness in all sectors of food industry. They are used in meat, fruit and vegetable processing plants, dairy industry, brewing industry etc.The core feature of the system is its ability to perform pressure washing and foaming with the water temperature of 40 – 45 C, that is, precisely dosing detergents in the form of foam or spray in the entire production plant. As the infrastructure is planned and the washing points are located in a proper way, the system provides easy and quick access to all rooms, significantly shortening the washing time while the precise dosing of detergents reduces the costs of keeping the plant clean and substantially improves the OSH maintenance in the production plant.
Considering the vast design capabilities and the different sizes of plants where the central washing systems are installed, they can be divided into centralised and decentralised ones.
CENTRALISED WASHING SYSTEM
Centralised washing system is intended for medium and large food processing companies which need to ensure highest level of cleanliness. It helps to achieve best possible hygiene while reducing costs at the same time.
The system includes central unit, detergent dosing system, stationary washing points, hoses, and suitable endings and lances. These systems can reduce costs by as much as 35% compared to traditional washing systems. It is achieved thanks to the highest quality of our solutions and the fact we meet demanding criteria in terms of efficiency and capacity. The reduction of costs and negative environmental impact comes from decreased usage of warm water and chemical agents, which in turn reduces the amount of wastewater the company generates.
Pumps and dosing systems which ensure proper flow, pressure and concentration rate of the chemical agent  for as many as 20 washing points simultaneously. They are usually located in a specially prepared technical room, located in the centre of the production plant, from where via pipes they feed particular satellite stations located in various parts of the building. Each station consists of a reel with a hose, gun and a selection of lances and endings for suitable type of washing.
Centralised washing systems help to maintain safe operation without having to introduce highly concentrated chemical agents into production machinery. The whole operation and configuration of the equipment is carried out in the technical room.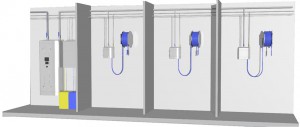 DECENTRALISED WASHING SYSTEM
Thanks to decentralised washing system food processing companies can maintain highest level of hygiene while taking advantage of flexible washing process. The system consists of few elements that together meet highest standards in terms of quality and capacity.
Two main elements ensure proper water pressure, flow and proper concentration of chemical agent in places where they are needed.
Central unit is installed in the production room from where water is distributed to the satellite stations located in various parts of the plant. Each station consists of a reel with a hose, chemical agent and disinfectant holder, gun and a selection of lances and endings for suitable type of washing.
Decentralised washing system can be used by all food processing companies, however if system includes more than 5 satellites, centralised washing system should be considered.